A Special Welcome Message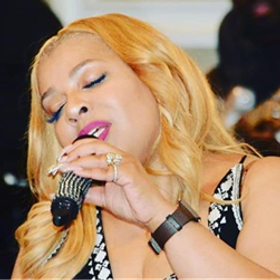 "Some thing About Mary..."
Independent Recording Artist, Singer-songwriter & Stylista
MARY CROSS  IS Classic Soul.
"SOME THING ABOUT MARY..."
INDEPENDENT RECORDING ARTIST, SINGER-SONGWRITER & STYLISTA
MARY CROSS  thinks outside the box.  Her mission statement is 2NspireU. 
Few artists are the very definition of a generational talent. Mary Cross is one of them...from Jazz, Classic Soul, Soft Rock and R&B her voice interprets lyrics that tug at heart strings while taking music lovers on a journey by way of heartfelt story telling.
Displaying an interest in music from an early age, Cross   joined the church choir and fell in love with Gospel music.  Throughout her childhood, she listened to various radio stations and her interest in music continued to expand.  Inspired by artists such as Phyllis Linda Hyman, Otis Redding, Nina Simone, Nancy Wilson, Oleta Adams, Patti Austin, Stephen Bishop, and Linda Ronstadt, Cross   formed her band called 2NspireU.   
Although no formal training, the first gig at a jazz club inspired Cross  to cover Soul-oriented songs both acoustically and with a full band.  The ultimate goal is 2NspireU whether attending a live performance or listening via audio.
In 2019, Cross   released her debut single titled 'In Love There's A Risk', written and produced by Donald Robinson.
Cross'   co-wrote the lyrics for the second single, You Can Change It with Donald Robinson.  This song was initially intended for a different purpose but heavily influenced by the events of 2020 with a desire to encourage people to feel good about going out to vote in the 2020 Presidential election was paramount.  The song became a public service announcement that translated into commercial success after its July, 2020 release.  
Cross  followed early the next year with her latest single titled, Promise' which celebrates commitment of couples.  Witnessing devastating loss of life caused by the pandemic, she chose to write a celebratory message of hope to remind mankind of how important human touch and relationships are…and the power of the Promise made to one another.  She collaborated with Jazz Saxophonist Carl Cox (Maysa Leakes).  Promise continues to rise on the charts both domestically and abroad
Cross  has no hidden agenda.  She simply wants to create timeless, feel good music. Her mission statement remains as it was the day she founded the band and LLC…2NspireU.
Cross   music is available on all media platforms. 
The latest quest is to gain 1000 Youtube subscribers (for artist status).  You can help by SUBSCRIBING to Mary Cross Music channel.  Here is the link: https://www.youtube.com/channel/UC84ROpq3JGNDVm7bGNC3Dfg
Mary is featured headliner for Philly's the CDC Giveback Nicetown Festival and will perform a Tribute to the music of the late great Phyllis Hyman.
Other upcoming performances include: Restart the Arts, Winefests and a number of other events yet to be announced
She has shared the stage with Gerald Veasley, Arpeggio Jazz Ensemble, AyA, and INCA, NBA Basketball Great Anthony Avent,  Eban Brown (former voice of the Stylistics); Chris Thomas (The Mayor) Comedy Showcases; William Smooth Wardlaw' (Luther Relives) and she continues to perform to SOLD OUT audiences throughout the tri-state region.
Mary is working on her highly anticipated debut album that will include songs written by Israeli Composer Misha Segal, and a host of others.  
In addition to talk shows, Mary has been featured in a number of print publications (Frontrunner, AC Times, Anointed News Journal)  and interviewed worldwide by DJ and Radio presenters.  She has also served as a as a guest co-host for a number of local  talk shows and cooking shows (Chef Aaron McCargo, featured on NPR and featured on the WHYY Concert Series.  Mary Cross 2NspireU is a 2021 Tri State Black History Award recipient recognized for the time and musical talents they have provided to non profit organizations serving the greater good of youth and seniors throughout the community.  (Educaid Africa, Restart the Arts, Lawnside Seniors Community Center, and IDEA Performing Arts Center to name a few.)
Her latest single, Promise was #1 Amazon UK Charts and she has had a number of acknowledgements for her work by colleagues and music critics worldwide.
For more information we invite you to send an email to marycrossmusic@gmail.com or complete the contact us form.